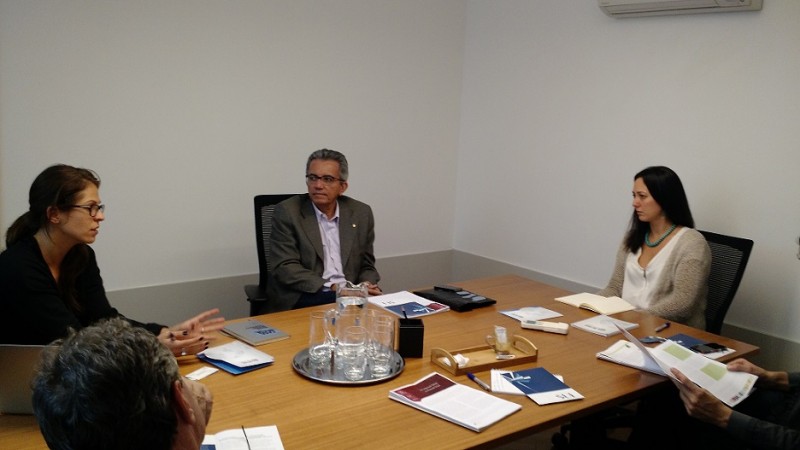 To outline possibilities for cooperation between the Center for Bioethics and Diplomacy Studies in Health  (Nethis/Fiocruz) and the Center for Studies and Coordination of South-South Cooperation (Articulação Sul), which coordinates the Brazil and the South Observatory, Nethis staff visited the headquarters of Articulação Sul on Wednesday afternoon, April 29th, in São Paulo.
After the presentation of the activities that each institution performs, the Coordinator of the Center, José Paranaguá de Santana, suggested an approach of the Observatory with the Virtual Health Library Bioethics and Diplomacy in health (VHL Nethis). "The Observatory may collaborate with suggestions of articles and documents, mainly in the themes complementing the scope of bioethics, health and international relations," suggested Paranaguá.
Another possibility of dialogue was discussed concerning education at distance, set to be released in the second half of 2015. The Coordinator of the IV Course Module, José Agenor Álvares, identified that Articulação Sul makes monitoring and evaluation of programs and projects of cooperation, which coincides with the module theme Management of Policies and Projects of International Cooperation in Health. "We can provide material for you to evaluate and set up a meeting in Brasilia to work out specifically about the EAD course", said the Articulação Sul's Executive Coordinator, Bianca Suyama.
"We are willing to new partnerships and Fiocruz is reference when we talk about cooperation in the area of health. We have established contact with researchers at the Center for International Relations in Health from Fiocruz", told the Coordinator of Articulação Sul Programs, Melissa Pomeroy. "We can begin our interaction from the site, with a text about Nethis", she suggested.
ARTICULAÇÃO SUL – the Center for Studies and Coordination of South-South Cooperation (Articulação Sul)  aims to contribute to the consolidation of the field of International Cooperation for Development in Brazil, improving the dialogue between the applied research, public policies and practices. Articulação Sul promotes the following activities: production of studies and analyses on International Development Cooperation and South-South Cooperation; Monitoring and evaluation of programs and projects of cooperation; Studies on public policies and emancipatory practices in Brazil; Facilitating reflection and learning processes.
BRASIL AND THE SOUTH – Brazil and the South Observatory (OBS) is an initiative of Articulação Sul with the support of OXFAM, which aims to promote transparency and debate about the Brazilian performance in the Global South, from dissemination of research, analysis, news and events and the production of evidence and analysis to support critical and propositional debates.