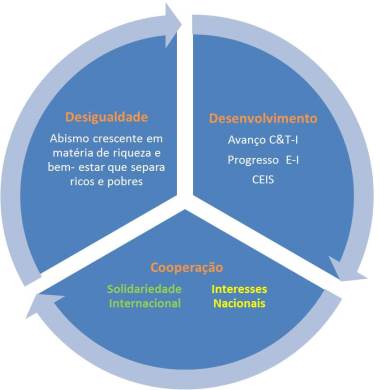 The discussion about inequalities, development and cooperation was presented in the introductory class discipline "International Cooperation for Development : Specifics of the Area of Health", given by Nethis in the Professional Master's in Public Policies in Health at Fiocruz School of Government. The class, led by the Center Coordinator, José Paranaguá de Santana, approached the history of creation of the World Health Organization (WHO), highlighted the main points of the Charter of the United Nations and other landmarks that shape international cooperation, especially in the area of health.
Access the presentation in this link.
After the historical analysis, Paranaguá made a brief presentation on the actors involved in international cooperation in health and discussed the correlation between the concepts: inequality, development and cooperation. "The scientific and technological development and innovation influence the inequalities between countries, in terms of health conditions and well-being. Could these inequalities be eased with international cooperation?" One of the alternatives, suggests Paranaguá, is the strengthening of South-South relations, a redesign of the United Nations and a new concept for international cooperation for development. In addition, strengthening the State, as a regulator agent, as the legitimate representative of the interests of its population in order to protect it, for example, from the performance of multinationals which directly affect human health, as the tobacco industry, ultraprocessed food and alcohol.
CYCLE OF DEBATES – After the explanation, the class was divided into two groups to develop work on "Health in Agenda 2030" and "International Cooperation, Development and Regulation in Health", with the presentation scheduled for June 30th. These and other topics will be presented in the sessions of the Cycle of Debates on Bioethics, Diplomacy and Public Health in the first semester of 2016.