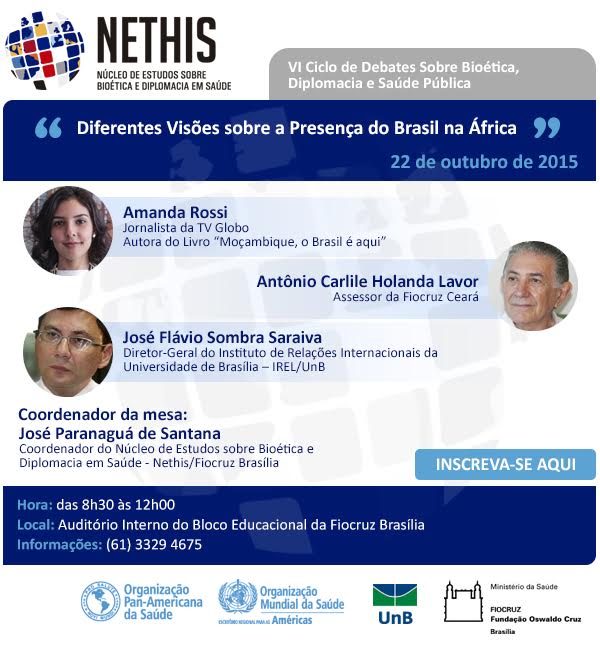 Journalist and researchers discuss Brazil's presence in Africa

What does Brazil do in Africa? What interests move the cooperation and business between these countries? These are some of the issues that will be discussed by the author of the book "Mozambique, Brazil is here", TV Globo journalist Amanda Rossi, the researcher at Fiocruz Ceará Carlile Lavor, and the Director of the Institute of International Relations at the University of Brasilia (Irel/UnB), José Flávio Sombra Saraiva, during the VI Cycle of Debates on Bioethics, Diplomacy and Public Health. The debate, with the theme "Different views on Brazil's presence in Africa", will be held on October 22nd, starting 8:30 am, at Fiocruz Brasília.
There will be participation certificate issued by the Fiocruz School of Government. Registration here.
"The great story told by Amanda Rossi is brilliant, result of intensive research and investigation. Carlile has undergone important experiences in Africa, with the implementation of community health agents and the construction of the National Policy for Community and Sanitary Development Agents. Sombra Saraiva is a renowned researcher and diffuser of the Brazil-Africa relationship", summarizes José Paranaguá de Santana, Coordinator of the Center for Bioethics and Diplomacy Studies in Health (Nethis/Fiocruz) and coordinator of the debate.
The purpose of the debate is arguing the recent trends of increasing cooperation between Brazil and Africa, considering the political, social, economic dimensions of these processes, especially in relation to health and environment issues.