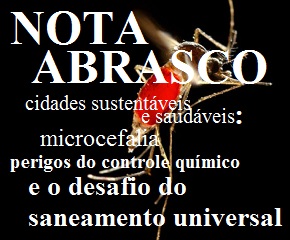 The thematic groups of Abrasco released in February 2nd a technical note with demands to the authorities for the adoption of 13 measures related to vector control and the protection of the population (read note in full). "To Abrasco, the degradation of living conditions in cities, inadequate sanitation, particularly as regards the difficulty of continued access to water, poor garbage collection, sanitation, carelessness with hygiene of private and public spaces – are the main responsible for the aedes aegypti infestation.
A major technical note topic is the criticism of the strategies adopted by the Ministry of Health to combat the mosquito, "for over 40 years, without success". The sanitarians highlight "the essence of vector control model, given the intensification of the use of larvicides and adulticides for the Aedes aegypti, and in accordance with the guidelines adopted by the MH from 2014, it comes back to the guidance for the use of Ultra Low Volume Technique (UBV) [3] with Malathion the 30% diluted in water, covering the entire national territory".
The researchers of Abrasco are categorical in stating that the purchase of these substances (poisons) by the Brazilian Public Health care interests only to its producers and traders. "They are inputs produced by a very lucrative businesses, operating throughout the world".
The note written above is in line with the thematic and doctrinaire scope of Nethis, which can be accessed at this link and this link, are publications which discuss, for example, the uncontrolled use of pesticides and questions the actions of the tobacco industry. The way out mentioned by the Center is the State regulation, in which the State is the main defender of the interests of the population and not the large multinationals. For Nethis, it is the responsibility of the State to adopt measures to promote the collective and individual well-being, to control the different risk factors for diseases, to act on the control of the entire chain of production, dissemination and consumption of products harmful to health.